Impres Rent A Car opened its first site in Brooklyn, followed shortly by a second location in Spring Valley, NY. Impres Rent A Car stands out from the chain brands by its personal one-on-one customer care and service, lower, competitive rates, and the quality, newness, and range of choices of its rental fleet. Although well known in Brooklyn and Spring Valley, the firm was entirely unknown in Orange County.
Orange County represented completely new territory – an opportunity to launch the brand in the Hudson Valley and drive further expansion and growth.
Impres tapped our full suite of services to create awareness of their new car rental brand in this market area, drive direct inquiries for car rental, and support expansion into additional locations.
Market Planning
Print, Digital & Radio Advertising
Media Planning
In-Store Posters & Counter Cards
Publicity & Public Relations
Event Planning
Signage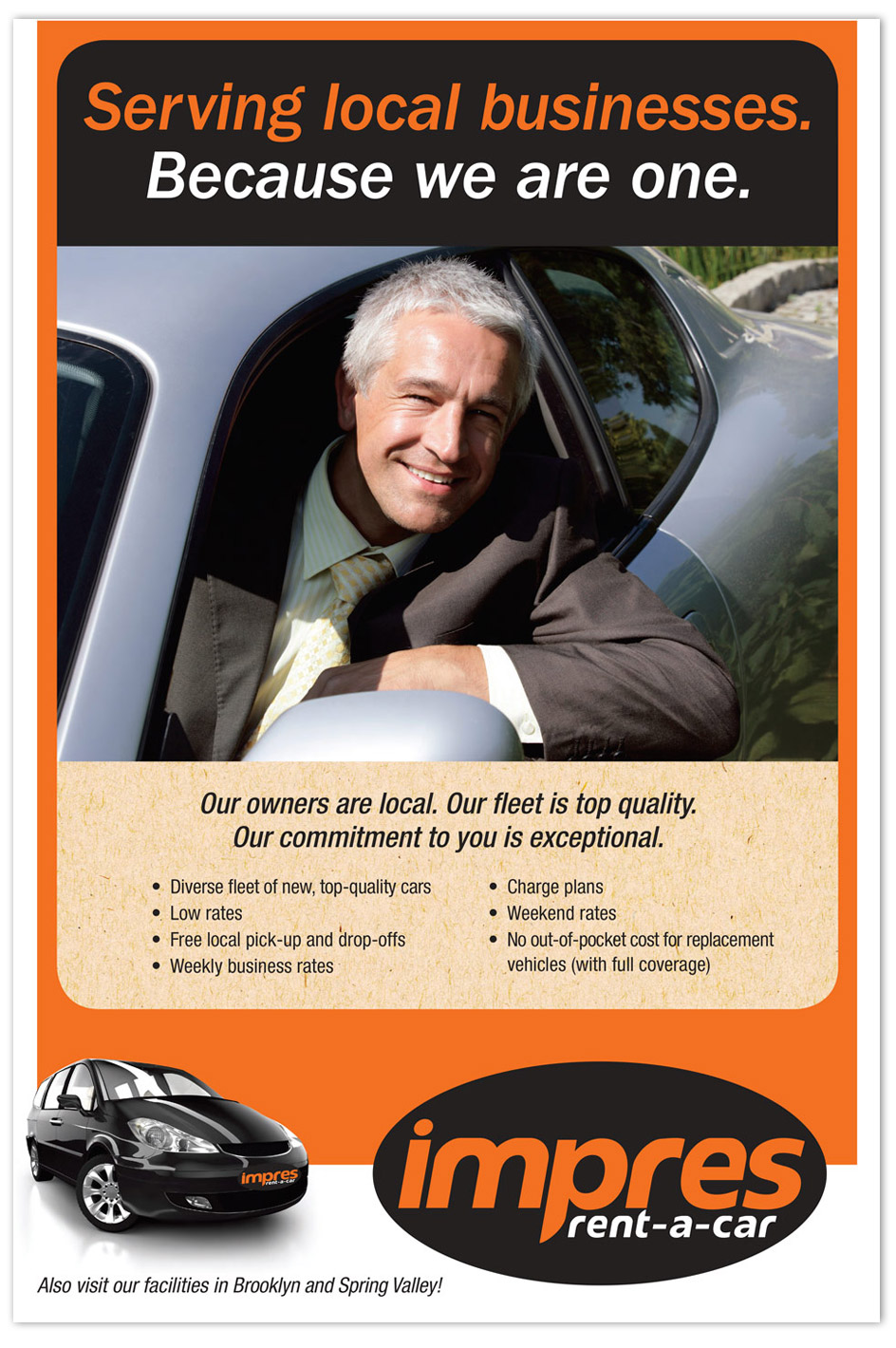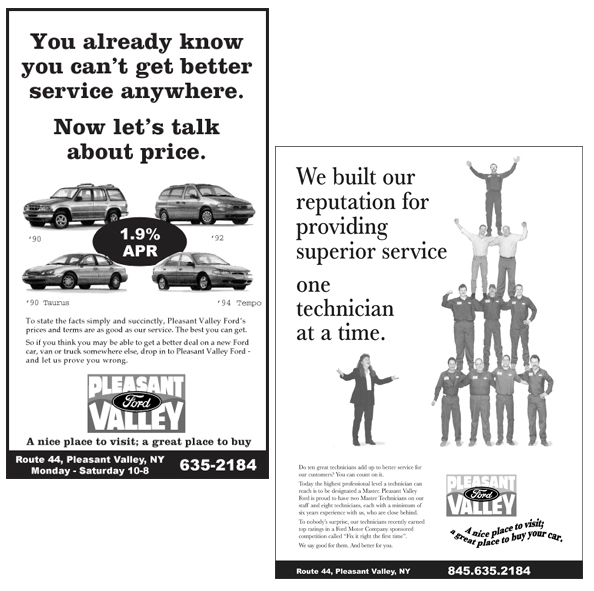 Although business was good, Pleasant Valley Ford management realized they were not getting the results they needed on their own. They sought our help to develop an integrated marketing program that would increase showroom traffic and sales substantially.
BBG&G created a compelling and motivating campaign of integrated print ads and radio and TV commercials that allowed readers, listeners and viewers to discover for themselves that Pleasant Valley Ford was no ordinary dealership. We presented their unique combination of qualities, experience and heritage in a simple, direct and honest way with warmth and humanity.
We began the campaign with ads that address the most important concerns of potential buyers: resentment at being pressured by sales people, uneasiness about the fine print in dealership and leasing contracts, the reliability of used cars, and the expertise and competency of the technician team.
Although we never directly characterized the dealership as ideal, that is how their readers, listeners and viewers came to perceive it - the dealership they always hoped to find but were afraid did not exist.
Market Planning
Print, TV & Radio Advertising
Media Planning
In-Store Posters & Counter Cards
Publicity & Public Relations
Event Planning
Logo & Corporate Identity
Signage