Mount Saint Mary College (MSMC) a private, 4-year liberal arts university, is best known for 2 nationally accredited programs – nursing and teaching. In the past, much of its marketing had focused on those two strengths.
A recent Brand Discernment study had identified 4-5 distinctive qualities. The ensuing challenge was to make those values meaningful to students. Specifically, Mount Saint Mary College wanted to better communicate with non-traditional students and drive enrollment from adults returning to colleges looking for retraining, career enhancement, and flexible options.
We positioned Mount Saint Mary College as the premier educational resource that provides superior adult education that can transform a student's career and life. The campaign utilized both print advertising and e-marketing outreach to coincide with degrees most in-demand and drive attendance at Information Sessions.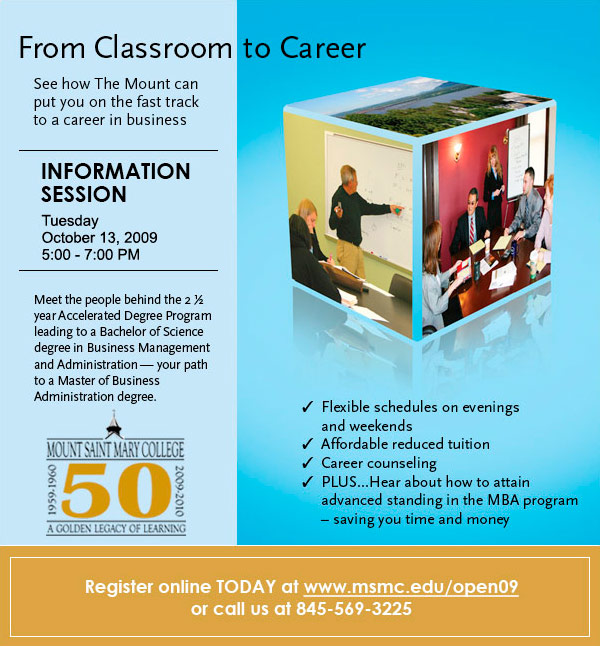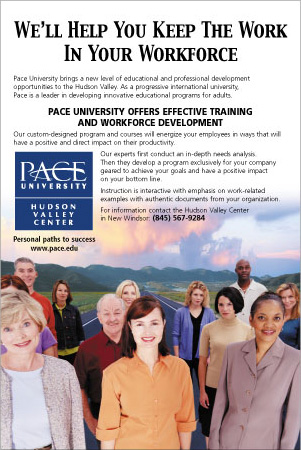 In Manhattan, PACE University was known for its undergraduate and graduate programs, and had recently established a satellite to offer adult education programs to the residents of the lower Hudson Valley.
PACE now offered outstanding, flexible non-credit and workforce developments programs and graduate courses for adults looking to retrain or re-enter the work force in a new, convenient Hudson Valley location.
The problem was that neither adults – nor their employers – knew what PACE University had to offer.
BBG&G orchestrated strong copy and compelling visuals to tell the story with conviction.
Positioning Strategy
Identified/Defined Target Audience(s)
Advertising
Planning and Execution of All Media
Marketing Consulting
You've got to love a place that starts with "U"
SUNY Ulster, a two-year college and part of the State University of New York system, enlisted our help. Though the slow economy was already driving up enrollment, the college still suffered from a lingering misconception common to community colleges – that of a lesser quality education, and lower transfer opportunities.
BBG&G repositioned SUNY Ulster's brand as one offering tremendous value to incoming freshman: significant cost savings, high quality education, a fun, full-college experience, and the opportunity to go anywhere – either directly into the work force, or into 4-year degree programs through transfer.
The TV campaign theme was derived from SUNY Ulster's focus on the individual student. We used a playful, animated letter "U" throughout the smartly written script, ending with "You've got to love a place that starts with U".
The spot continues to air on local and regional cable channels, and increased SUNY Ulster's fall enrollment exponentially.
What was most important was that SUNY Ulster's fall enrollment increased exponentially.
SUNY Ulster - Student Recruitment
SUNY Ulster - Adult Education Recruitment
BBG&G was soon requested to develop a second spot for adult students.
"Everyone loved it, from the President down," said the Coordinator of Marketing & Media Services at SUNY Ulster.