Brand Strategy
Logo Design/Corporate Identification
Advertising
National/Regional/Local Radio/Print
Media Planning
Collateral Marketing Materials
Direct Marketing
Publicity & Public Relations
Web Site Development
Web Site support
Search Engine Optimization
Marketing Consulting
Marketing Plans
Market and Consumer Research
TV/Radio/Print
Audio/Visuals Presentations
Quantitative Surveys
Non-traditional Media
White papers
Newsletters & Annual Reports
Multi-Lingual Advertising
Fund-raising
Greater Hudson Valley Family Health Center (See More)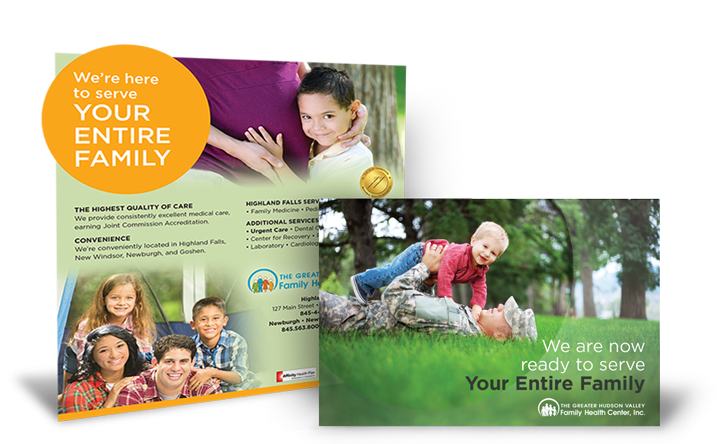 When we began working with the Health Center in early 2014, there was no cohesive branding — and many hands in the pot. In fact, marketing team members found it hard to agree on items such as logo, name, color, and font usage. Each brochure, ad, and flyer was designed as if it were a stand-alone piece.

The development of Branding Standards was key! These would be used by our agency, the client's graphic design team, and their senior marketing team members. So, even though there were still a lot of cooks in the kitchen, at least everyone was working off the same recipe.
Bon Secours Charity Health System

The core operating principles of Bon Secours Community Hospital (BSCH) reside in their being a faith-based institution. BBG&G saw that their mission posed an opportunity to truly set the hospital apart. We could position them based on the fact that their 'raison d'être' was the driving force behind the compassion and standards of excellence they strive to achieve.
The result of this focus was the creation of Miracles through Medicine: a branding strategy designed to generate an awareness of the superior services and level of care available at Bon Secours Community Hospital – while drawing a strong reference to their underlying mission.
A series of print ads initiated the campaign, each focusing on different healthcare services available to the community. The campaign was adopted by sister-hospital, St. Anthony Community Hospital and also adapted to a series of collateral for employees and patients.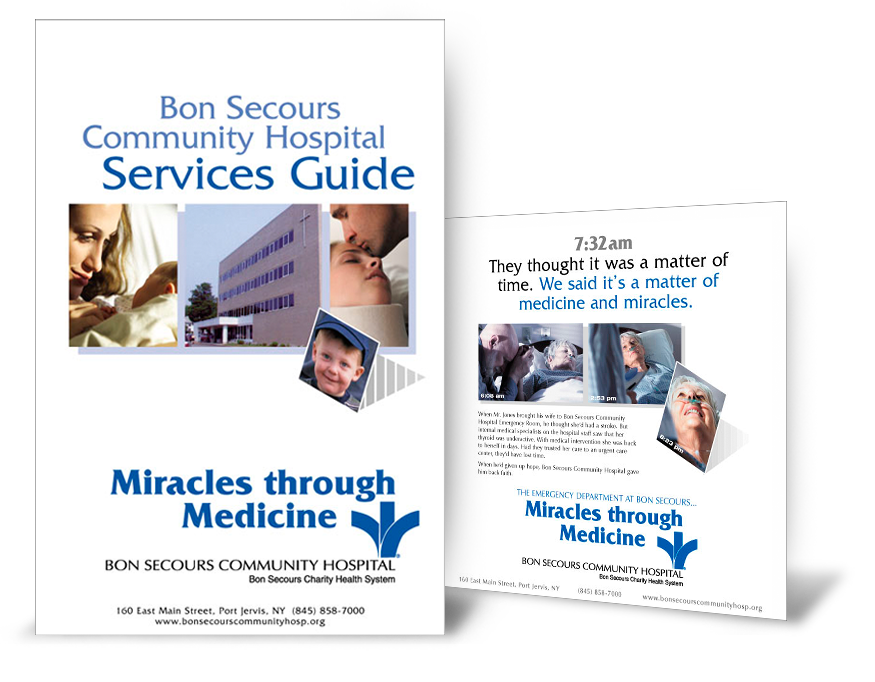 Bon Secours New York Health System

Schervier, a division of Bon Secours New York Health System located in the Riverdale section of the Bronx, had three different business sectors:
Schervier Long Term Home Health Care (Medicaid audience)
Schervier Nursing Care Center (Gov. subsidized audience with the goal to gain more private pay)
Schervier Short/Term Rehabilitation (Medicare audience with the goal to increase business)
Competition in the market area was strong and advertising heavily. Local populations were changing how they viewed the ways they care for those in need of medical assistance outside the home, and their ability to pay for services. Plus, Schervier had recently come under the Bon Secours umbrella and staff was still adjusting to a new corporate culture.
BBG&G conducted research among the local community, employees, staff, and patients, families and caregivers to test awareness and image and gauge satisfaction, expectations, and attitudes.
Insight gained was used to develop messaging and a marketing campaign that resonated with target family/patient audiences, increased internal and external reach, and solidified strong brand awareness.
Chiropractic Leadership Alliance

Chiropractic Leadership Alliance (CLA) developed products and services to chiropractors throughout the US and beyond. With technology that provides a way for chiropractors to identify back pain and its cause and track the progress of each patient, the Insight Subluxation Station was the company's leading product.
The first ad campaign leveraged the fact that Insight technology was being utilized by team chiropractors with the Baltimore Ravens, Indianapolis Colts, and Detroit Lions — giving these teams a competitive edge.
In 2006, product enhancements allowed chiropractors the ability to provide their patients an actual number, representing their overall spinal health. As patients' numbers increased, chiropractors could clearly communicate the value of their chiropractic care. Our Numbers Talk magazine ad really got people talking and increased interest and sales significantly.
In addition to advertising, BBG&G supported CLA with media planning, package design, trade show displays, and sales collateral.
Full Services Provided:
Research
Strategic Planning
Print Advertising Campaigns
Package Design and POP Displays
Trade Show Banners and Displays
Collateral (brochures, flyers, etc.)
Direct Mail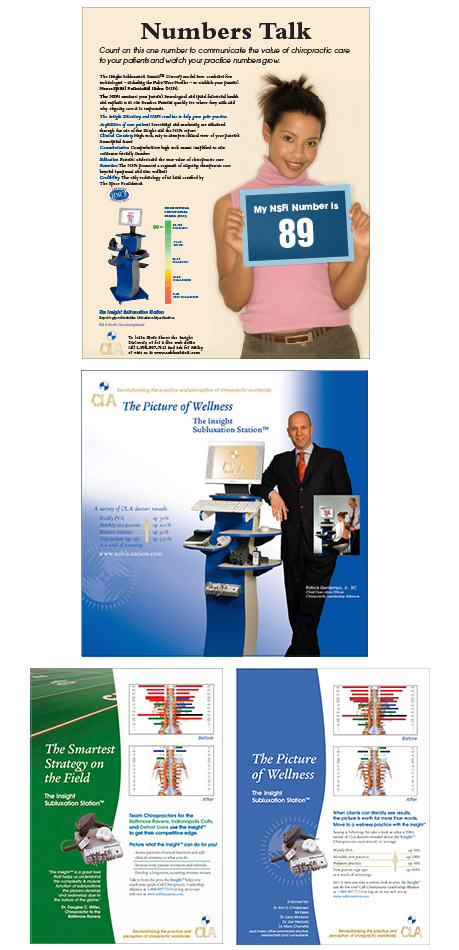 BBG&G positioned Horizon Family Medical Group as the optimum source for family health care in Orange County, providing top-quality care with warmth and personal attention in the convenience of a patient's own community. Personalized care is backed by a county- wide network that affords extended hours, access to a breadth of family medical experts, and a consistent standard for delivery of care.
After only six months, Horizon enjoyed an increased new patient rate, a renewed and more focused identity, a recognized brand promise, increased publicity, and was seen by local media as a credible, reliable source for health information.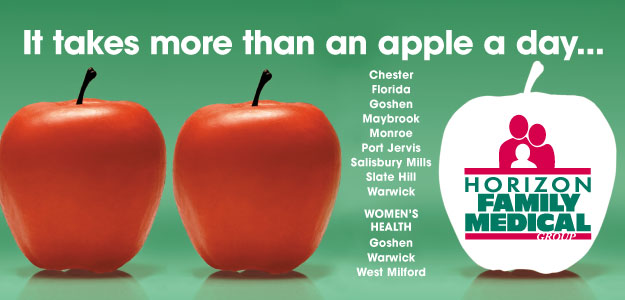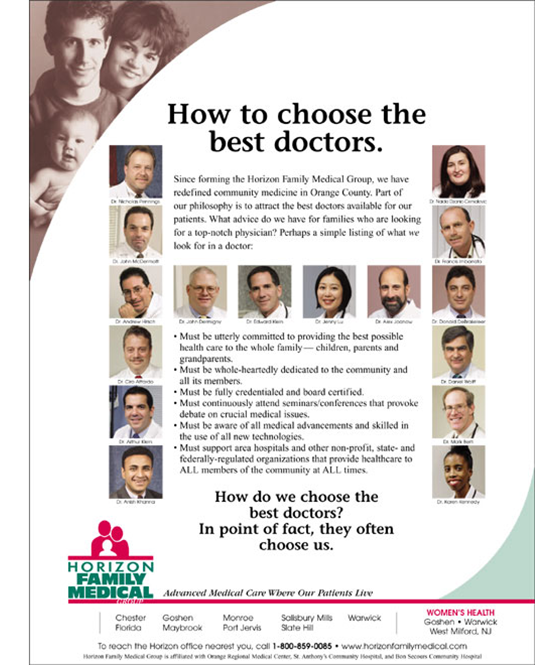 Hudson Valley Heart Center

The Hudson Valley Heart Center, though a viable practice with sound credibility, had several marketing challenges to overcome:
Their web site was long overdue for an overhaul and upgrade
New, innovative services, programs, and technology were waiting to be announced and marketed
Local populations were unaware of the full range of services the practice offered
BBG&G positioned the Hudson Valley Heart Center as the leading provider of cardiovascular diagnostic and rehabilitation services in the Hudson Valley, providing top-quality state-of-the-art care with compassion and personal attention. Corporate ID, a new web site, patient materials, print advertising, and collateral were built on a strong positioning and marketing platform.
The Heart Center enjoyed a successful opening and increased usage of a new rehabilitation center, positioning and launch of the Heart Sense program for women, a renewed and more focused identity, a recognized brand promise, and increased publicity.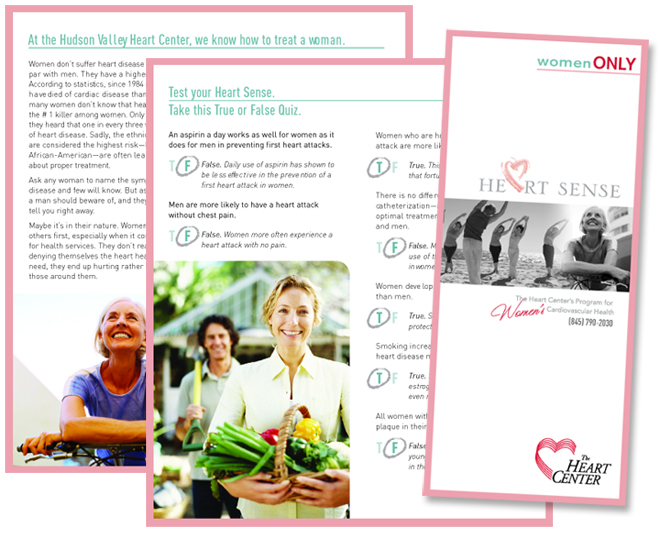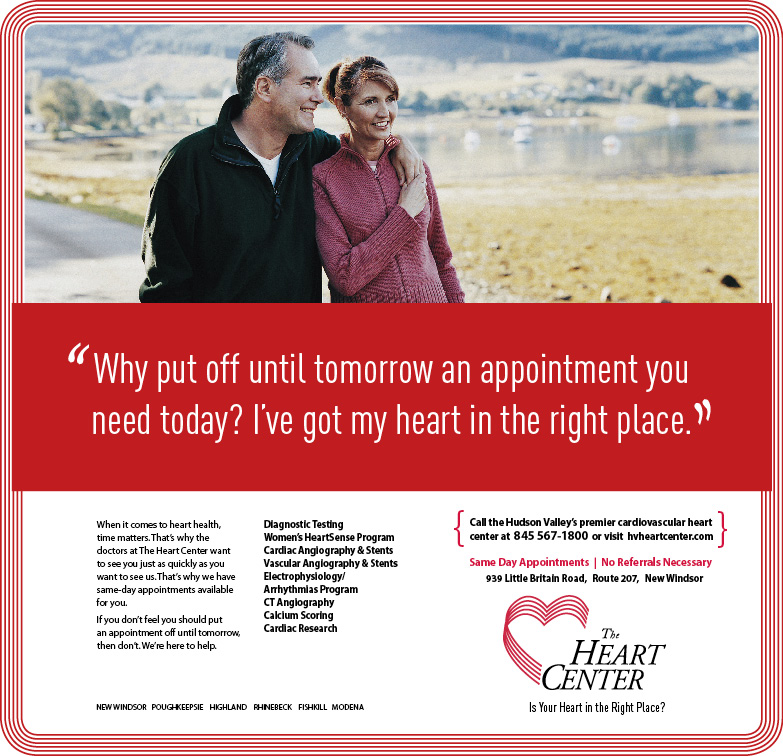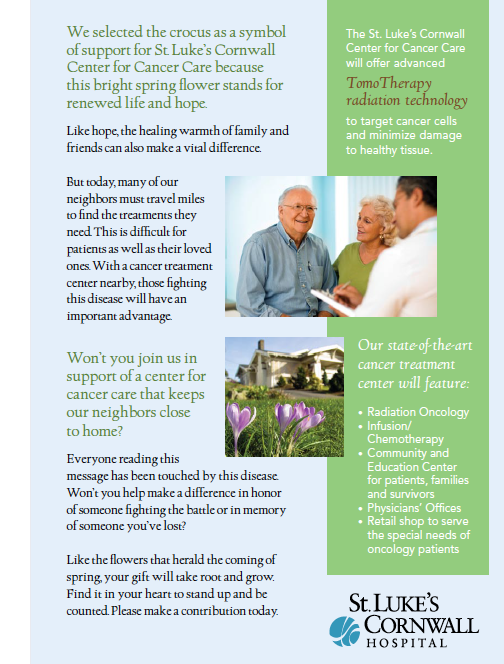 Our first work for St. Luke's consisted of researching and writing indepth and thought-provoking white papers that brought current national health care challenges and facts down to the local level.
In addition, the hospital was opening a brand new Cancer Center, and enlisted our support in building a pool of potential and actual donors and setting the stage for future and ongoing fund-raising.
We developed an upbeat and invitational Donor Acquisition Mailer that was direct and emotive without being overly sentimental. Selected segments of the community at large and existing donors were offered sponsorship and in memorium opportunities.