MID-HUDSON REGIONAL ECONOMIC DEVELOPMENT COUNCIL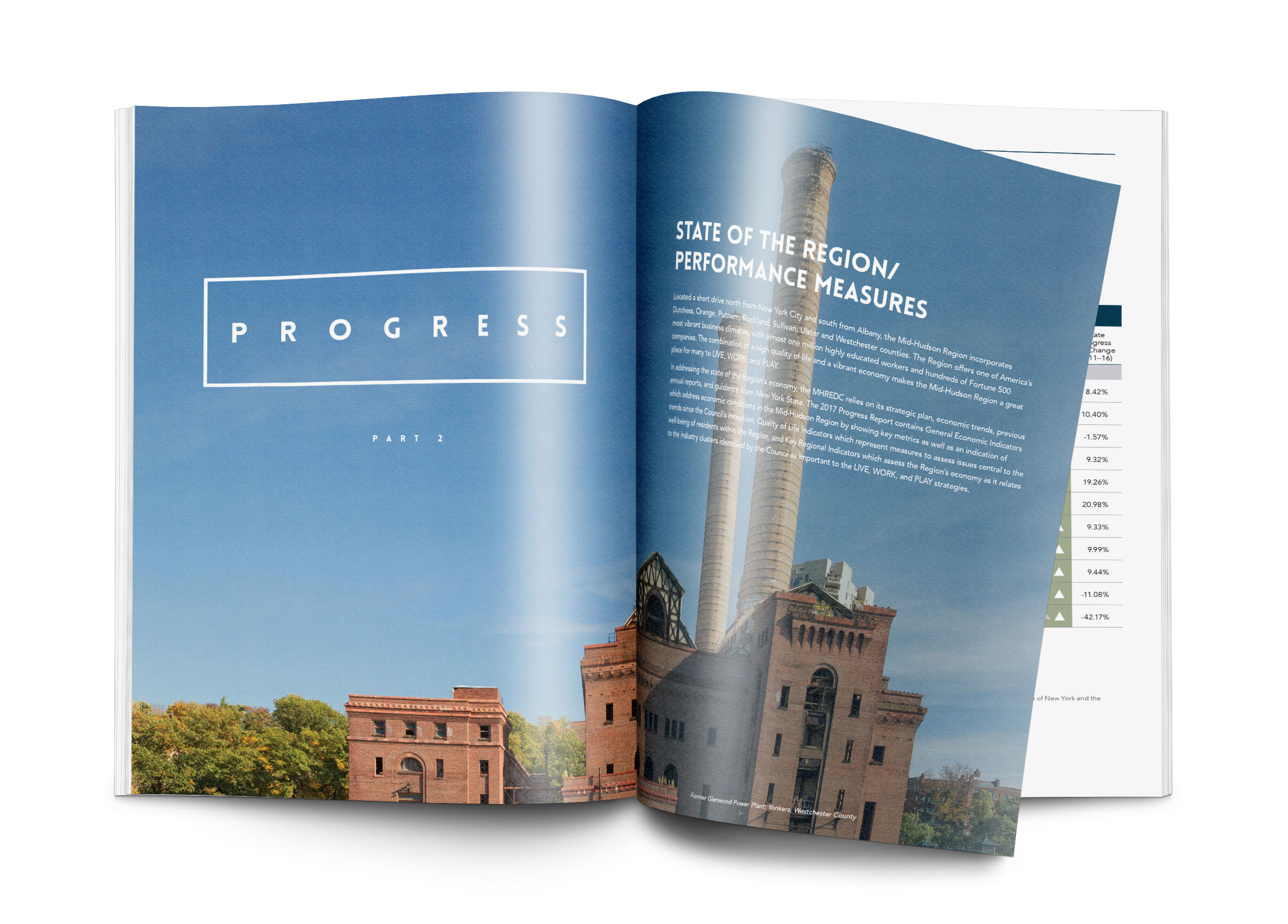 Context
Mid-Hudson Regional Economic Development Council (MHREDC) approached BBG&G Advertising for the preparation of their 2017 Progress Report. These reports are submitted for review to New York State and Regional EDC's are awarded funding based upon the results from the year. Presentation of the materials can make or break their chances of project funding.
Though the report had been created by numerous agencies in the past, MHREDC was looking for a fresh new design, with full page photos and a streamlined look throughout to provide a strong visual appeal to readers. BBG&G Advertising was charged with developing a theme, preparing numerous front and back cover options, and producing a progress report that successfully highlighted key statistics and results for the Mid-Hudson Region EDC, while also providing updates of the region, and of previous CFA funded projects from 2011 to 2017.
Solution
The year's theme was Future Forward, Progress with Purpose. Keeping the audience of NY State officials and other various groups in mind, MHREDC requested that we update certain color schemes and icons used in the report to appear more sophisticated than in previous years. We developed an elegant, modern, professional look, which graphically drew readers' attention to key results and statistics that MHREDC wanted to highlight.
One of the main challenges we faced with this project was producing a high quality piece in time to meet the printer's deadline. MHREDC could only provide us with content once they had received certain content from other parties. This left us with a tight turnaround. Each section had intricate reports and detailed maps that needed to be prepared accurately in order to convey the client's true results to the readers; all within strict page count allotments. Our team was able to find design solutions to meet these requirements, on time, in a tasteful way.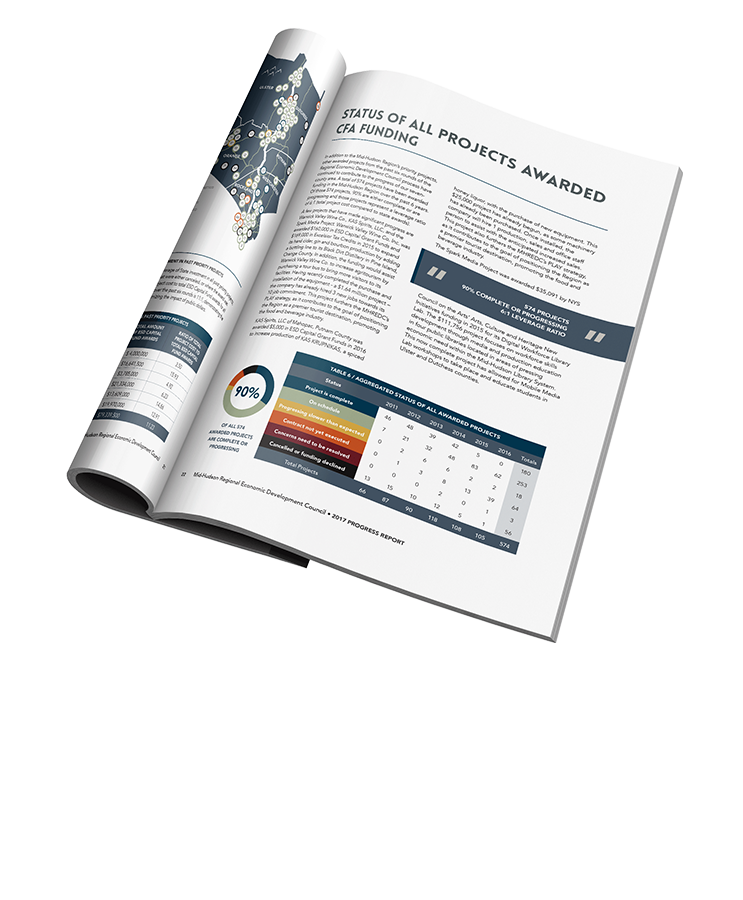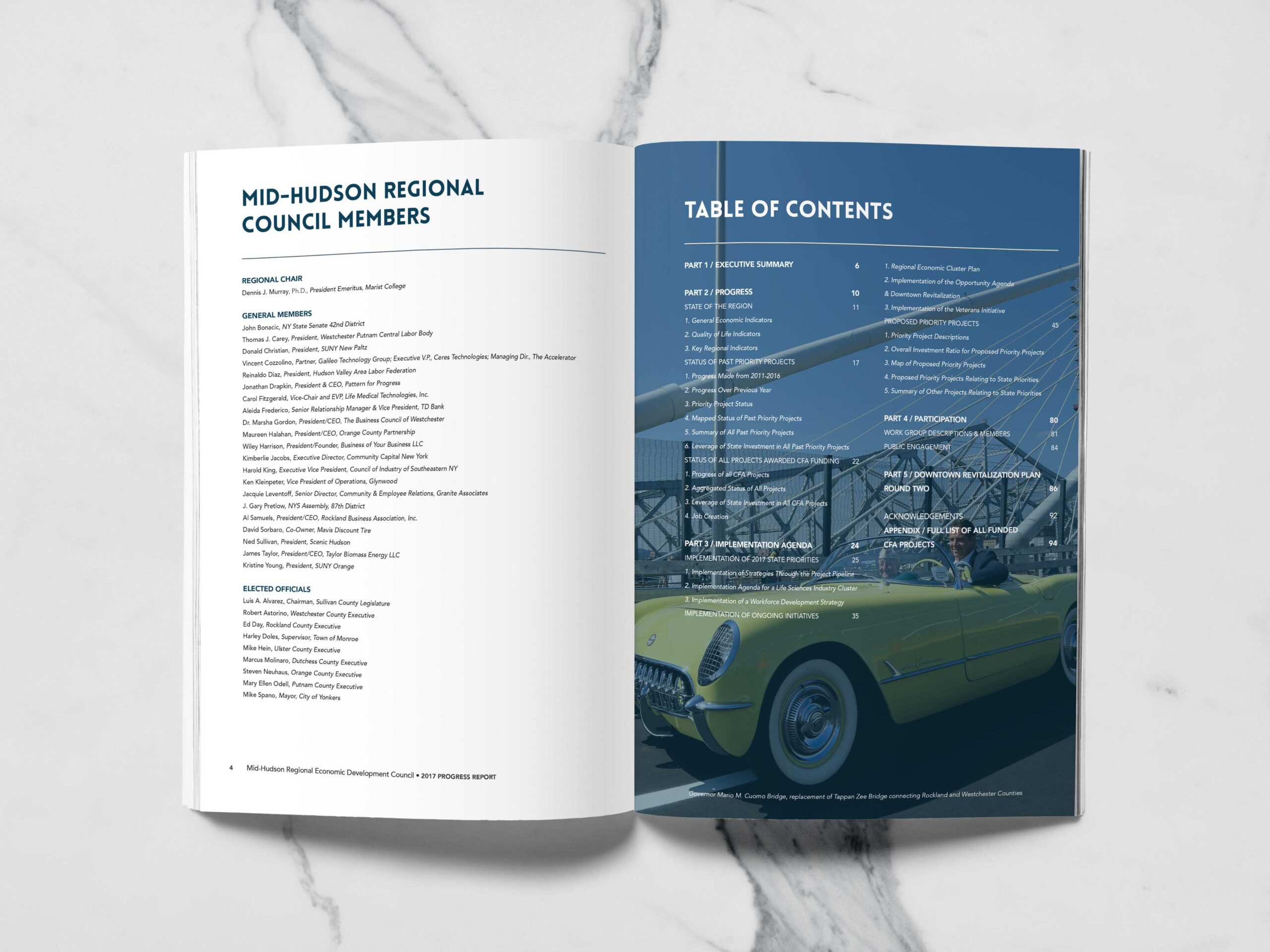 "It has been an absolute pleasure to work with BBG&G Advertising & PR on the Mid-Hudson Regional Economic Development Council's 2017 Progress Report. The entire BBG&G team was responsive, creative, and innovative in their approach to designing our Progress Report. Representing economic data in a way that is engaging and current is no easy task, but the BB&G team exceeded our expectations and produced a piece we are very proud of."
– Meghan A. Taylor, Regional Director, Mid-Hudson Empire State Development, New Windsor, NY.