BBG&G Advertising, Inc. is sharing its proprietary marketing expertise on its newly redesigned Website with a new "Get Smart" resource for small companies and individuals to improve their businesses.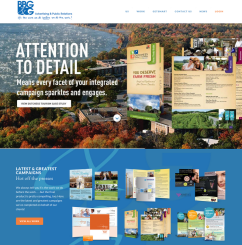 The new resource for those involved in marketing contains free white papers featuring intellectual property; current and past issues of BBG&G's marketing newsletter; the latest from its Insights marketing blog; and articles published by its expert team.
Designed by the creative team at BBG&G to be engaging, informative, inviting and fun, the updated site reflects the agency's culture, and showcases its capabilities, current and past work samples, and news from its clients.
The new responsive design site has been optimized for viewing on mobile devices and tablets, and is easier to navigate and search. Other features include a client portal and integrated social media feeds.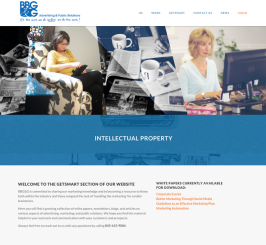 "We are excited about the Get Smart section because it will be a valuable resource for business owners and marketing managers," said June Musollino, agency co-owner. "Our goal is to provide a soup-to-nuts library of useful information for our target market."
The first Get Smart white paper available is on "Guidelines to an Effective Marketing Plan." Other topics that will be offered include Event Planning, Social Media and Marketing ROI. For more information, visit www.bbggadv.com.
About BBG&G Advertising, Inc.
Based in Campbell Hall and Poughkeepsie, BBG&G is a full service advertising, marketing, and public relations agency serving a wide range of local and regional clients within a broad range of industries. Having recently received their GSA Contract Award, BBG&G is poised for growth within the government sector. BBG&G Advertising, a Certified NY State WBE (woman-owned business entity), was started in 1997, and is known for delivering successful integrated marketing strategies that leverage both traditional and new media to reach consumers at varying phases of the decision making process. For more information, call 845-615-9084 or visit our new Website at www.bbggadv.com.