Campbell Hall, NY – BBG&G Advertising is proud to announce that their second annual Heroes Bike Run will take place on Saturday, May 21, 2016 at Thomas Bull Memorial Park in Montgomery, NY. Proceeds will benefit two local not-for-profits organizations, which support veterans. The National Purple Heart Hall of Honor, Inc., located in New Windsor, NY, is a special place of healing for all veterans and is dedicated to preserving the stories of Purple Heart recipients. Paws of War rescues dogs from kill shelters and trains them to be companions for United States military veterans suffering from the emotional effects of war.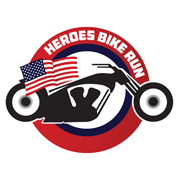 Registration and breakfast begins at 9:00 am, followed by a 60-mile motorcycle ride around the scenic country roads of Orange, Ulster, and Sullivan Counties at 11:00 am, and concludes with an afternoon barbecue from 1:00 pm – 3:00 pm. Bike enthusiasts and veterans from the tri-state area are invited to purchase tickets and spend the day enjoying free food (including a variety of foods from local restaurants), live music from Hudson Blue, and a large assortment of raffle prizes.
In addition to the festivities, a local veteran will be awarded a free Weber Genesis grill, courtesy of Michael's Appliance Center. Community members are encouraged to nominate a local veteran online or in-person at Michael's showroom in Middletown, NY, until May 13, 2016. The winner will be announced at the Heroes Bike Run and have their pick of a customized range, including free delivery.
"We're excited to have the opportunity to help support local military veterans and give back to servicemen and women who have selflessly protected our country and risked their lives to defend our freedom. Having several friends and family members who have served in this capacity really brings the effects of war close to home. It is our hope that through this event, we can bring a smile to veterans' faces, while also raising awareness within our community about The National Purple Heart Hall of Honor, Inc. and Paws of War," states June Musollino, Partner of BBG&G Advertising.
According to the Department of Veteran Affairs, approximately 100,000 of the 750,000 veterans who served in Afghanistan and Iraq sought mental health care. Service dogs have been proven to be 84.1% effective in treating Post Traumatic Stress Disorder (PTSD). Paws of War's mission is to train and place shelter dogs with United States military veterans to provide therapeutic companionship.
Dedicated to commemorating the extraordinary sacrifices of servicemen and women, The National Purple Heart Hall of Honor, Inc.'s aim is to preserve the heroic stories of Americans who have been awarded the Purple Heart. Since being commissioned by President George Washington in 1932, the Purple Heart has been awarded to an estimated 1.8 million military members wounded or killed in battle — many from our area. Veterans who have visited say they experienced a sense of peace and found healing there.
Those interested in attending the ride, or becoming a sponsor are encouraged to visit www.bbggadv.com/heroesbikerun for more information. Tickets can be purchased online or directly from BBG&G, located just above Noble Roasters Café in Campbell Hall, NY. Sponsors to date include Michael's Appliance Center, Northeast Commercial Printing, Orange County Trust, Empire State Bank, and Verticon Ltd. Construction.
About BBG&G Advertising, Inc.
Based in Campbell Hall, New York, BBG&G's mission is to help their clients succeed beyond their dreams, and have fun doing it. They are a full service advertising, marketing, and public relations agency, serving a wide range of clients within a broad range of industries. Established in 1997, they are known for delivering successful integrated marketing strategies that leverage both traditional and new media to reach consumers at varying phases of the decision-making process. BBG&G is a Certified NY State WBE (woman-owned business entity) and has received their GSA Contract Award from the federal government. For more information, call 845-615-9084 or visit http://www.bbggadv.com.
About The National Purple Heart Hall of Honor, Inc.
Located in New Windsor, New York, The National Purple Heart Hall of Honor, Inc. is a 7,500 square-foot facility dedicated to collecting, preserving, and sharing the stories of America's Purple Heart recipients. Exhibits present a timeline that chronicles the changing nature of warfare and combatants through images, artifacts, and personal narratives. Currently, over 175,000 Purple Heart recipients are documented in The Roll of Honor, a computer database in which visitors can search for information about enrolled recipients. For hours and group tour information, visit http://www.thepurpleheart.com.
About Paws of War
Based in New York and founded by Guardians of Rescue, Paws of War is a 501c3 organization devoted to helping both animals and veterans. The Paws of War goal is to train and place shelter dogs to serve and provide independence to our United States military veterans that suffer from the emotional effects of war, such as PTSD. In turn, each veteran can experience the therapeutic and unconditional love only a companion animal can bring. To learn more about Paws of War, visit www.pawsofwar.org.