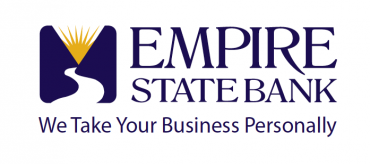 Hudson Valley, NY – When Empire State Bank first opened its doors in 2004, its mission was to redefine banking for small businesses and personal accounts. By bringing a keen understanding of the community and meshing that knowledge with financial expertise, the Bank has been able to provide personalized innovative services. The result; Empire State Bank has grown to over $200 million in assets with branches in the Hudson Valley, Staten Island and Brooklyn. Today, the unprecedented use of mobile devices and expanding technologies is changing how banking is done. In fact, industry sources note that, "fewer than 15% of banks have mature digital marketing policies." Once again, Empire State Bank is at the forefront of specialized banking by providing digital services using the latest automated marketing innovations. The recent promotions of Philip Guarnieri to Chief Executive Officer and Thomas Sperzel to President and Chief Operating Officer highlight Empire State Bank's commitment to proven leadership to usher in this new age of banking. The Bank's Board of Directors also reflects this, recently appointing business leaders David Freer as new Chairman of the Board and Walter Daszkowski, new Vice Chairman of the Board.
Mr. Guarnieri, a resident of Staten Island, was one of the originators of Empire State Bank, orchestrating the Bank's charter and leading its growth with his insightful strategic planning. With over 35 years of banking experience, his dedication to customer service remains paramount. Mr. Guarnieri notes that more and more businesses are learning that "real-time" is key to the customer experience, particularly using mobile devices to enhance human interaction. Leveraging innovation to help create and fine-tune customer relationships will be the tipping point for many banks, one that Empire State Bank is more than prepared to tackle.
Mr. Sperzel joined Empire State Bank in 2009 as Chief Financial Officer. As President and COO, Mr. Sperzel recognizes that the new digital age of banking starts with boots on the ground, from initiating greater involvement of staff with marketing, to the integration of big data for personalizing the customer experience. The Bank's recent move to mobile banking is the first of many digital services that will be offered. "Being a community bank is no longer confined to 4-walls. We want to be able to engage our customers from anywhere with the hands-on service they've come to expect from us."
The recent advancements on Empire State Bank's board reinforces the importance of savvy businesspeople sharing their expertise, particularly as the business and banking worlds continually change. Like Mr. Guarnieri, Mr. Freer has been part of Empire State Bank since its inception, providing his investing expertise to the Board. Strongly rooted in the Hudson Valley, he is one of the premiere businessmen in the region. Walter Daszkowski, partner at Daszkowski, Tompkins, Weg & Carbonella, PC in Staten Island, is well know for his tax and financial expertise. Mr. Daszkowski's experience encompasses large to mid-sized CPA firms. As a business owner himself, he embraces the innovations that improve his client's experiences and also assists in building business.