GARRISON, NY: (Jan. 22, 2015) – With the New Year, The Garrison is offering new special dining experiences, golf packages, and staff positions – all designed to better serve the public and its members.
Garrison Golf

The Garrison Golf Course is rolling out a number of benefits unique to the region, including two-hour members-only weekend golfs from 8:00 a.m. to 10:00 a.m. and 30-day advanced tee times. There are no cart or initiation fees.
The Garrison is currently offering a 5% discount on memberships through March 31, 2015. To encourage new memberships, they are providing a select number of new members with a free Taylormade AeroBurner driver ($300 retail value) for signing up for full-week memberships, or a complimentary Taylormade ($175 retail value) golf bag with all other  memberships, excluding junior. All members will receive a complimentary Garrison bag tag.
Special Dinners at Valley
The highly acclaimed Valley restaurant will continue its well-received themed dinners with more offerings in 2015 – from a Swing Thing to Valentine's Day.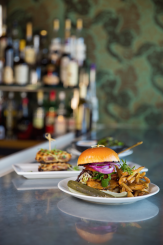 A Swing Thing, on Jan. 30, features a dance lesson and dinner with Louie Perez, owner of VP Dance Academy of Fishkill, starting at 7:00 p.m. Perez has choreographed many Broadway shows and recently conducted a tour of U.S. dance studios.
With its spectacular river views, Valley delivers the romance with its Special Valentine's Weekend ala carte and Chef's Tasting-For-Two Menus, Feb. 12-14, and weekend brunch.
New Staff Positions
Also new, Bridget Bell has been named Sales Manager at The Garrison and sister property, Highlands Country Club. She is responsible for selling and executing weddings, parties, and other special events at both venues. Bell has been employed by The Garrison for five years and was a captain in her last position. She brings an expansive knowledge of the event process, which will help to enhance each guest's special experiences.
The Garrison is a river-view resort open year-round, offering highly acclaimed dining at its signature Valley restaurant, award-winning banquet facilities, overnight lodging, public 18-hole golf course, and other amenities amidst the majestic Hudson Highlands.
The Garrison is located at 2015 US 9, Garrison, New York. More information is available online at www.TheGarrison.com, or by calling 845-424-3604. Reservations can be made through x39.