Campbell Hall, NY – BBG&G is proud to have received the 2015 'Excellence in Marketing' award from the New York State Tourism Industry Association (NYSTIA). NYSTIA has recognized BBG&G's drive to succeed, marketing leadership and achievement in the tourism sector for their work with Dutchess Tourism, Inc. (DT).
As a tourism industry leader, NYSTIA strives to raise consumer awareness and appreciation of travel and vacation opportunities in New York State.
NYSTIA's "Excellence in Marketing" award recognizes an organization's planning and implementation of overall marketing strategy for an attraction, destination or region that is creative and innovative. The award-winning "Distinctly Dutchess" campaign includes print and digital ads, e-marketing, a digital tablet site, social media, TV spots, and YouTube videos.
The "Distinctly Dutchess" campaign effectively evolves DT's brand by focusing on the distinctive qualities and experiences found only in Dutchess. By highlighting these unique attributes, the campaign sets them apart from their competitors in the region, has gained them national and international recognition as a Hudson Valley destination, and continues to drive increased leads, higher visibility, increased web traffic and page views, and increased visitation from local, regional, and national markets.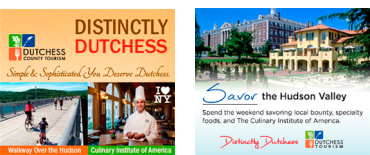 "The 'Distinctly Dutchess' program is singular in its ability to capture and hone in on Dutchess' unique essence," observes Deborah Garry, Partner, BBG&G Advertising. "Our work has succeeded in positioning Dutchess as the exemplary Hudson Valley destination within a region that is only gaining in popularity worldwide."
Mary Kay Vrba, President & CEO of Dutchess Tourism, Inc., said, "BBG&G Advertising & Public Relations has been a terrific marketing partner. Together we've kept our eye on the goal of increasing visitation to Dutchess County, and have created an effective plan for doing so. They continue to envision countless ideas, turning the best ones into detailed marketing solutions that have helped us achieve success."
About BBG&G Advertising, Inc.
Based in Campbell Hall and Poughkeepsie, BBG&G is a full service advertising, marketing, and public relations agency serving a wide range of local and regional clients within a broad range of industries. Having recently received their GSA Contract Award, BBG&G is poised for growth within the government sector. BBG&G Advertising, a Certified NY State WBE (woman-owned business entity), was started in 1997 and is known for delivering successful integrated marketing strategies that leverage both traditional and new media to reach consumers at varying phases of the decision-making process. For more information, call 845-615-9084 or visit our new Website at www.bbggadv.com.