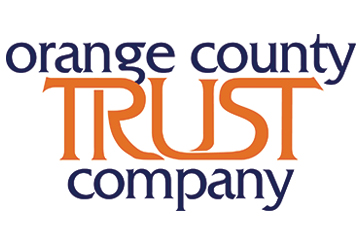 Middletown, NY – June 27, 2014 – Orange County Trust recognizes that being a good corporate citizen means being involved in a number of community initiatives.  The Bank today announced three significant donations in Orange County.
As a major sponsor of the YMCA of Middletown's 'Save the Last Lap' Capital Campaign, Orange County Trust has made a $50,000 commitment toward a much-needed renovation of the pool, which will provide the community with additional programs and services.
"The YMCA of Middletown has been an integral part of this community for over 60 years, and we've been watching all of the positive things they have done thus far," said Michael Gilfeather, President and CEO of Orange County Trust. "We are proud to be a part of this terrific campaign and happy to help make a difference in the community."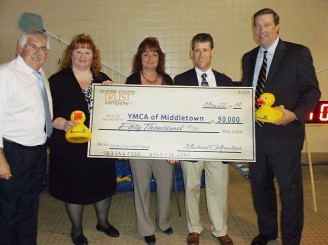 The renovation presents an opportunity to expand the width of the pool that was originally built 60 years ago, enabling the YMCA of Middletown to teach more children how to swim, add a variety of new aquatic programs, and increase the use of the pool for rehabilitation purposes.
Orange County Trust will also be a primary sponsor of the Goshen Rotary Great American Weekend Road Race for the third consecutive year. The 5k and 10K race will be held on Saturday, July 5th, starting at 8:00 a.m. Proceeds of the race are used to support the charitable purposes of the Goshen Rotary Club.
The first patriotic celebration in Goshen took place back in 1982 to promote harness racing at the Historic Track. The road race is still an integral part of the Great American Weekend activities. This traditional celebration emphasizes why Goshen is proud to be a Great American Community, and Orange County Trust is proud to be the primary sponsor. For more information on the Road Race, contact Robert Dickover at (845) 294-9447 or email dickover@dddblaw.com.
As part of its ongoing support of the SUNY Orange Foundation and Orange County Community College, Orange County Trust continues its commitment to a five-year pledge agreement of  $20,000 per year, which began last spring.  Funds are designated towards spendable scholarships, the existing Orange County Trust Scholarship Endowment Fund, and for capital equipment to enhance the nursing simulation laboratory on the Middletown Campus.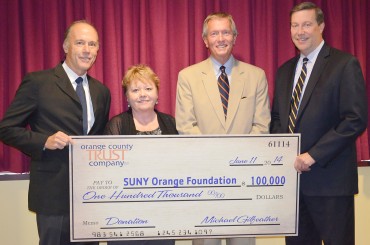 "The College and the Foundation greatly appreciate the many years of support we've received from Orange County Trust," says Vinnie Cazzetta, Vice President for institutional advancement at the College and executive director of the Foundation. "The Bank's support of scholarships has benefitted untold numbers of students over the years, and this current pledge is enhancing our nursing curriculum to the benefit of our students and the greater Orange County community."
This gift will generate much needed scholarships for students and state-of-the-art equipment for the new Health Professions Inter-professional Education Center, anticipated to open in 2015.
About Orange County Trust Company
Founded in 1892, Orange County Trust Company adheres to conservative banking practices. A highly capitalized bank, currently with over $702 million in assets, Orange County Trust has built trust within the community by remaining financially strong and independent, capable of making timely decisions here at home. From nine locations in the mid-Hudson Valley region, the Bank provides a variety of products and services for individuals and businesses. For more information, visit orangecountytrust.com