Events feature Valentine's Day Prix Fix, Tavern Dining Series, Weekend Packages and PechaKucha night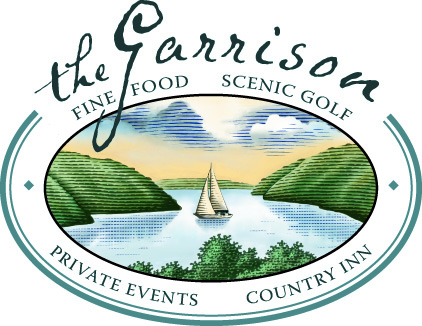 GARRISON, NY: (February 1, 2014) – Celebrating their first Winter of "leaving the doors open," The Garrison is offering a myriad of specials events, weekend packages, and fine dining at dinner and brunch for locals and tourists alike. Some of the events include: Valentine's Day prix fix, the weekend package at the Inn, The Tavern Dining Series at their sister property, Highlands Country Club, and PechaKucha Nights, which are informal gatherings where creative people in and about the region share their ideas, works, thoughts, holiday snaps in the PechaKucha 20×20 presentation (similar to a "show & tell" for all ages).
The Garrison has various private rooms featuring casual elegance, breathtaking views of the Hudson, and exquisite food to accommodate all your family celebrations including: christenings, graduations, bat/bar mitzvahs, anniversaries, bridal/baby showers and birthday parties. Also, worth mentioning are the wireless and audio-visual capabilities designed to cater to corporate and off-site meetings.
Just ten minutes from the train station, The Garrison, nestled in the Hudson Highlands, has become a popular getaway for locals and Manhattanites, who enjoy casual elegance, fine dining and an area to explore the arts. Winter rates at the Inn start at $89.00 for weekdays and $125.00 for weekends.
The Garrison's Valley restaurant is offering a Valentine's Day menu that includes a 3-course meal with appetizer, entree and dessert at $59.00 per person. A few of the items to choose from are: Beau Soleil Oysters, Mushroom Chowder with smoked bacon, Yukon gold potatoes and scallions, Sashimi of Yellowfin Tuna, Maine Sea Scallops, Flavorful Risotto with local vegetables and baby herbs, Red Velvet Cheese Cake and Local Apple and Red Pear Cobbler with house made vanilla ice cream. With a wine cellar that offers over 120 wines to choose from, Valley offers wines for any and all occasions. Valley won the 2013 "Best of the Hudson Valley" award, sponsored by Hudson Valley magazine, in the category of "Best Restaurant With a View."
"Whether you're celebrating a birthday or anniversary, a bat/bar mitzvah or graduation, a bridal or baby shower or your latest business success, The Garrison offers a spectacularly beautiful setting and a variety of private rooms to suit your gathering," said Chip Allemann, The Garrison's general manager. "We're proud of our talented staff, picturesque views and fine cuisine."
The Garrison is a 300-acre property with an 18-hole golf course, critically-acclaimed contemporary restaurant, four-room country inn, and a special event and wedding venue. Built in 1915 as Bill Brown's Physical Training Farm, The Garrison – along with its sister property, Highlands Country Club – is now owned by Chris Davis.
The Garrison is located at 2015 US 9, Garrison, New York. More information is available online at www.TheGarrison.com, or by calling 845-424-3604 x27.